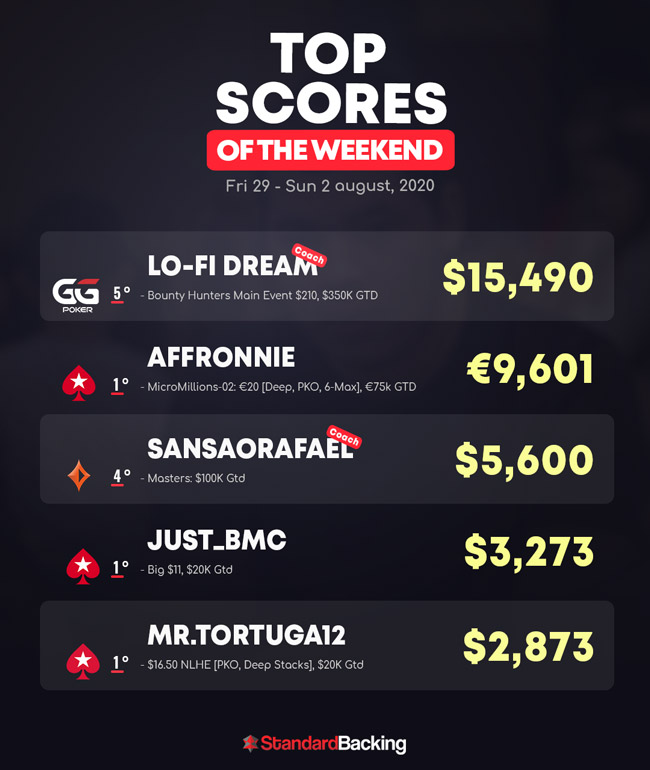 Top scores of the Weekend
Friday 29 to Sun 2 August, 2020
It has been a very productive week for our players and coaches, these are some of the best results of the past weekend.
At the top of the list, we have our coach Lo-Fi Dream who finished in 5th place of the Bounty Hunters Main Event $210, $350K GTD of GGPoker for $15,490, on the other hand, we also have affRonnie who took down the MicroMillions-02: €20, €75k GTD of Pokerstars for €9,601.00 added to the bag.
Our coach Sansaorafael ran deep in the Masters: $100K Gtd of Partypoker finishing in 4th place for $5,600, Just_BMC crushed the Big $11, $20K Gtd of Pokerstars for $3,273, finally MR.TORTUGA12 took down the $16.50 NLHE [Progressive KO, Deep Stacks], $20K Gtd taking home $2,873
We talked to affRonnie about his victory: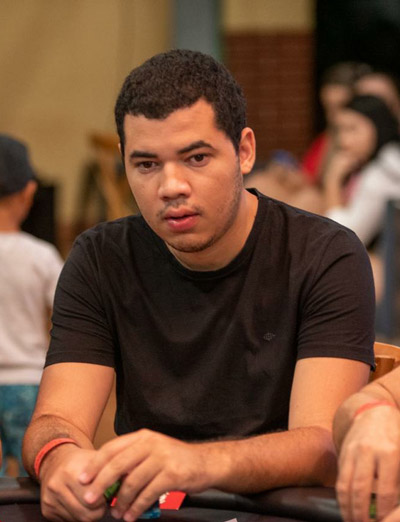 how do you feel after winning a tournament with such a big field like Micromillions Event?
R: I feel really happy, in this pandemic period, all tournaments have large fields, mainly on Sunday.
What was the most memorable hand/moment?
R: A8 when there were 5 left, I am chip leader pressing by ICM, I did 3bet all-in from the small blind with this hand and the second in chip pays me with KQs. If I lose that hand I would lose the lead and I would not be able to press the middle stacks.
How do you prepare for each session? Do you have any specific routine?
R: In the morning I separate about 30 ~ 40min to review spots that I marked from the last section, I do my off-poker activities and after lunch, I start the grind.
What are your goals for the rest of the year 2020?
R: my goals for this 2 semester and get another great result like that and keep doing a good volume and studying.
Thank you for the interview!
Good luck at the tables
BECOME A POKER PROFESSIONAL TODAY!
We review all applications carefully and
reply to all applications within 5 business days.