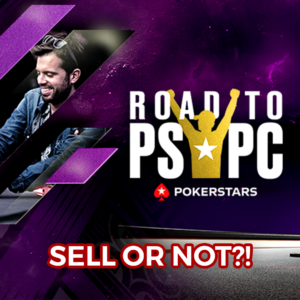 If you're one of the lucky ones who has won a PSPC Platinum Pass, you may be wondering what to do with it. Should you take a shot at the $25k tournament, or is there a better option?
At face value, the PSPC Platinum Pass is an incredible prize. It allows you to participate in the biggest tournament of the year, with a chance to win HUGE prizes and make a name for yourself in the poker world. But you can do that AND manage your risk and bankroll at the same time. 
One option to consider is selling your PSPC Platinum Pass at face value or even at a markdown. This can be a smart move for several reasons. First, it allows you to lock in profit by giving up some upside. This means that even if you don't cash in the tournament, you'll still have made a profit from selling some of your equity in the tournament. 
Secondly, selling equity in your pass gives you flexibility. You can use the funds from the sale to enhance your trip, increase your bankroll, or spend them however you want. This allows you to make the most of your opportunity and ensure that you're only taking as much risk as your want. 
Thirdly, selling equity in your pass allows you to control how much of a shot you're taking. If you sell 10% or 50% of your pass, you'll be locking in profit for the majority of the time you don't cash. This is a great way to manage risk and ensure that you're making smart decisions with your money. 
If you're interested in selling your PSPC Platinum Pass, we're interested in buying! Contact us and let's work something out. 
We're experienced poker backers with a proven track record of being reliable partners to work with. Let us help you make a smart decision and ensure that you're only taking as much risk as YOU want.
Contact us through the link: contact@standardbacking.com